Perdana Essay Competition My
In conjunction with our country's 60th Independence Day and Malaysia Day, the Perdana Leadership Foundation is proud to launch the Perdana Leadership Foundation Merdeka Photo Contest 2017.
The contest period is 21st August until 13th September 2017, carrying the theme "Uniquely Malaysian."
The contest is open to all Malaysian Perdana Library members. Click here to register.
Follow these instructions to enter the PLF Merdeka Photo Contest 2017:
1) Register as a Perdana Library member.
2) Log in to your Facebook/ Instagram account, & Like/Follow Perdana Leadership Foundation.
Our Facebook page is Perdana Leadership Foundation, & Instagram is @plfperdana
3) Upload your photo & tag us. Hashtag the photo with #plfmerdeka2017
4) Tell us in 50 words or less, why you think your photo captures the spirit of Malaysia.
5) Your caption can be in either Bahasa Malaysia or English.
6) Make sure your post and Facebook/ Instagram account are set to PUBLIC until the winners are announced.
Check out our infographic below to find out the details of this photo contest. You can also download the infographic by clicking here.
The Perdana Fellowship is a prestigious government internship programme that many students are keen to attend, not least because they receive a high remuneration. On the 14th of March there was a talk on campus, organised by PHIR-Notts. It featured three speakers from the Perdana Fellows Alumni Association and one who is a current intern. Three of them were/are students of UNMC and the fourth was a graduate mechanical engineer from the University of Southern California.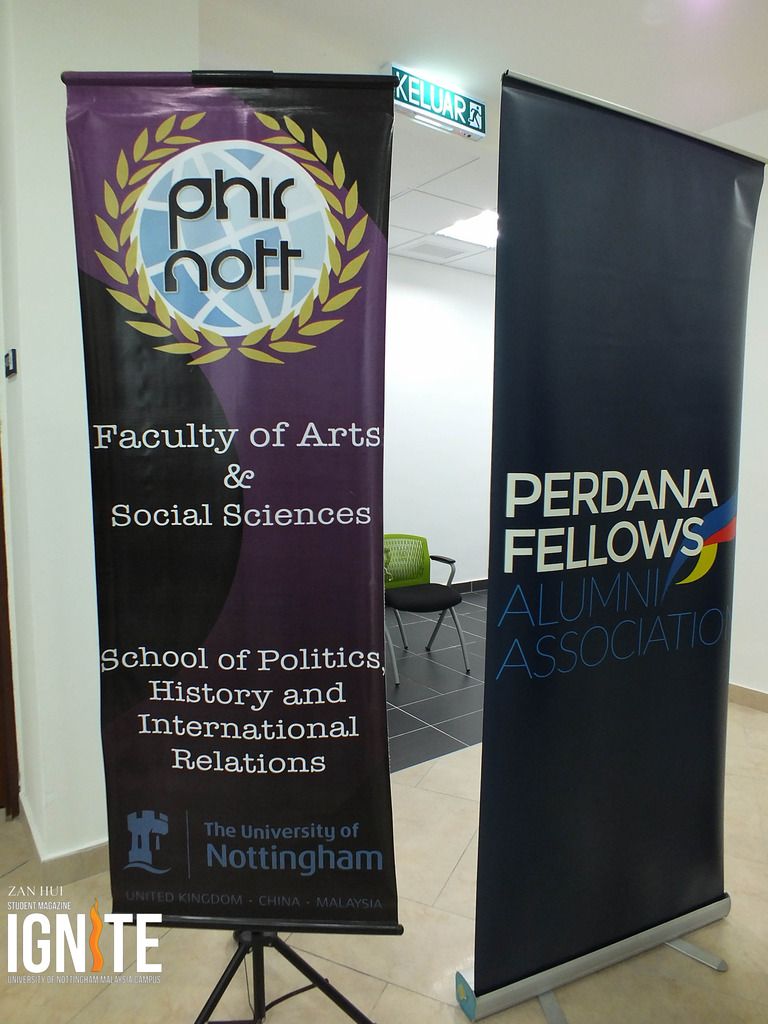 In true Malaysian fashion, the event started half an hour late. It commenced with a brief presentation by Victoria Cheng (International Relations, Year 3) on how to write a policy paper. According to her, policy papers should be non-academic, succinct, analytical, prescriptive and persuasive among other characteristics. One has to sell their policy while keeping in mind the reader and stakeholders involved. There is no time for philosophy in a research paper, everything should be straight to the point and she illustrated her points with an example of a policy paper she had written about sex trafficking.
Some of the tips she gave were: BLUF – Bottom Line Up Front which involves giving the reader the conclusion of a paragraph from the very start in order to hook them. Reading through other policy papers and academic papers while critiquing their ideas can also be useful. She gave a few good sources such as The Brookings Institute, IDEAS, Foreign Affairs, Islamic Renaissance Front and Institute Rakyat.
Subsequently Aladdin Mustafa, former SA Vice President gave a presentation on the Perdana Fellows Programme and explained how it had been initiated by the current Minister for Youth and Sports to bridge the gap between citizens and the government.
There are two branches to the programme and Aladdin himself is part of the graduate branch. The other three had been part of the undergraduate branch. A graduate intern is attached for 3 to 6 months to a minister or senator and gets paid RM 3000 while undergraduate interns are attached for 6 weeks to 3 months and are paid RM1500. Interns typically spend their time attached to a high level figure and (if they're lucky) get to shadow him/her around or assist his/her aides. They also aid in doing research. So far there have been three batches of Fellows totalling about 200, studying in various schools and countries.
Now however, the programme has been changed to a structured one with a fixed schedule for the interns, involving visits and talks from various organisations such as the Razak School of Governance, MaGIC, AXIATA, Khazanah Malaysia and many more.
Application for the programme involves writing a 500 word policy essay as well as submitting a CV. If you are shortlisted there will be a short phone interview. Aladdin had written his policy essay on GST therefore it was of no surprise when he was assigned to Datuk Idris Jala, the Chief Executive Officer of the Performance Management and Delivery Unit (PEMANDU). He is currently an analyst in the agricultural sector. He wrapped up with the message that this internship was the first step in the door for someone who wanted to change the country regardless of political background.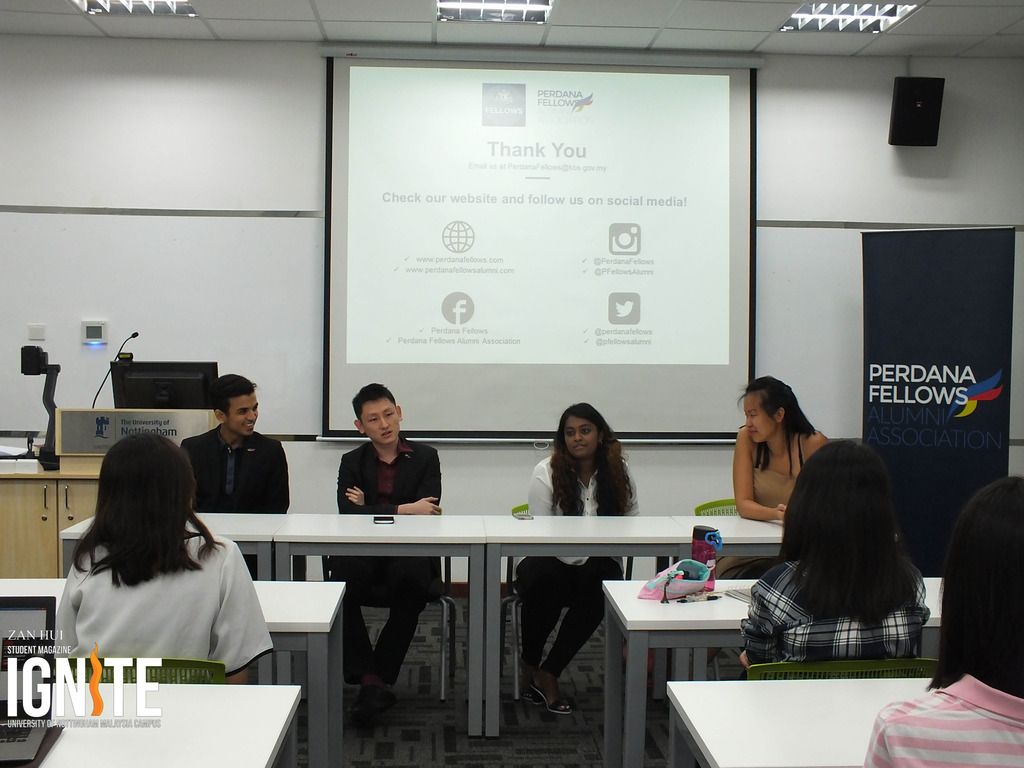 From left to right: Mustafa, Kian, Kimberley and Cheng
A panel session followed Aladdin's presentation. The four speakers – Aladdin, Victoria, Kimberley and Jung Kian talked about their experiences applying for the internship. They all submitted their applications on the day of the deadline and were quite surprised when they received the interview calls. Some of the interview questions were about what the interns could bring to the programme and also testing them on their proficiency in Malay.
Both Kimberley and Victoria had been assigned to Datuk Paul Low whose portfolio included human rights, corruption and transparency of offices and they were very happy with their experience with him. He was more of a technocrat than a bureaucrat and they got to see him almost everyday. He was a very approachable mentor who had his door open to his staff and them the whole time. There were three special officers assigned to them to teach them skills like how to write action plans. They were even included in special meetings where confidential information was being discussed. On one occasion they were asked to prepare a debate for and against the death penalty to present to the Senator as he was interested in presenting the idea of abolishing the death penalty to the cabinet.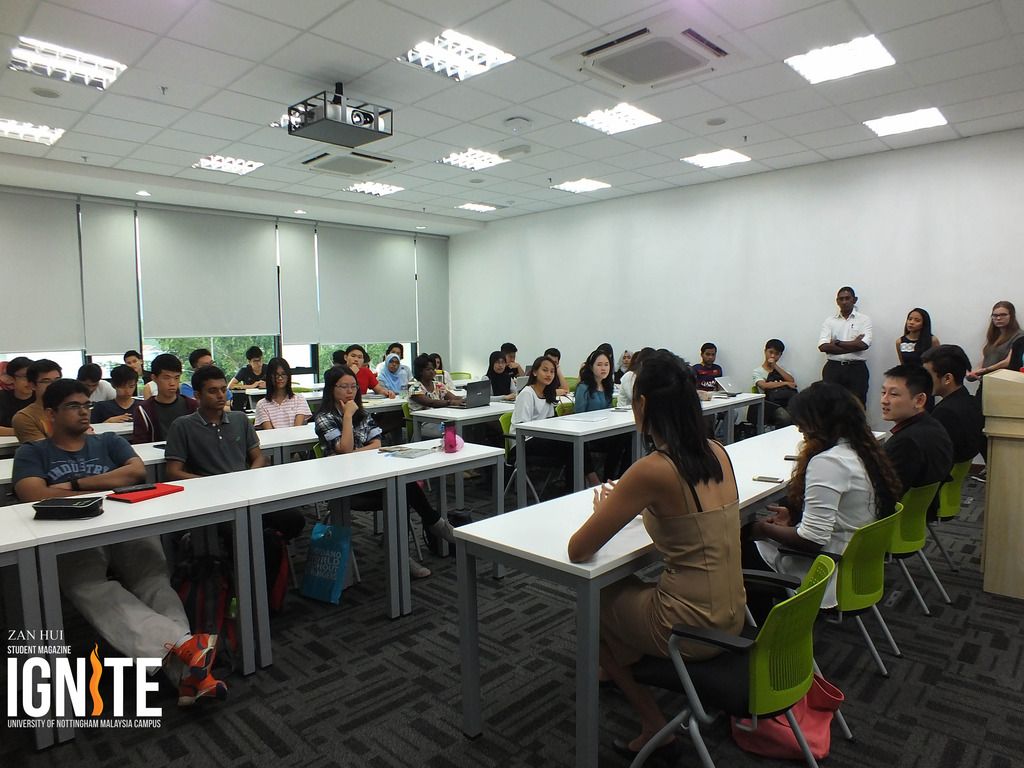 Jung Kian had written about press freedom in his policy essay and had been assigned to Dato' Haji Abdul Rahman Dahlan, the Minister of Urban Wellbeing, Housing and Local Government. He had been selected for that department because the Minister had requested for a Chinese intern to translate the documents from past Chinese ministers. Jung Kian lauded him for being a progressive leader. While under the internship programme, Jung had been fortunate enough to get the opportunity to travel to both South Korea and Kenya with the Minister. He narrated an incident in Kenya where he and a colleague had to write a speech for a minister 12 hours before a United Nations conference. It had been a good experience for him. Jung Kian is currently employed full time under the same Minister.
Some other information that was given during the question and answer session included facts like the internship is only open to Malaysian students and a good command of Malay is encouraged unless the intern is going to be assigned to the other two parties within the BN coalition (MCA or MIC) in which case they need to be proficient in either Tamil or Chinese.
The main factors that determine where an intern is placed are their academic major, their cultural background, the minister's preference and the subject of their policy paper. The four interns acknowledged the presence of racial and gender preferences among the various ministers with Chinese interns typically being assigned to the Malaysian Chinese Association (MCA) and Indians being assigned to the Malaysian Indian Congress. Jung Kian and Kimberley had been exceptions.
People who had interned in other opposition internships such as the Keadilan Executive Internship Programme are also free to apply for the Perdana Fellowship.
PHIR-Nott posing after the event
The purpose of the Perdana Fellows Alumni Association to strengthen bonds between past and present Fellows, support the internship programme and organise events. They organise the Leadership series and Corporate series and events include: PFAA Townhall Series and PFAA Youth Roundtable Series. They also provide support to other events such as the Malaysian Public Policy Competition and collaborate with other organisations like International Council of Malaysian Scholars and Associates.
The event wrapped up with a dinner session for the audience and the panellists to mingle and talk.
By Lhavanya Dharmalingam
Editor's note: the deadline for this internship was on the 31st of March. Those who are interested may want to apply next year.
Comments are closed.